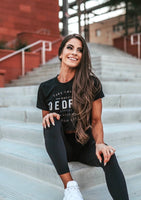 Meet Paige
Hi! I'm Paige Reilly, 30 years old, originally from New York but currently living in Colorado! I started my fitness journey in April of 2016.
It all started when I decided to get a trainer at my local gym and realized that under-eating and only doing cardio & abs isn't going to help me reach my goals (shocker). Up until that point, I didn't have much knowledge on anything bodybuilding or fitness related, so I immediately fell in love once I was introduced to the world of weight lifting and more importantly, bodybuilding.
I never saw this path in my plans, never thought I would compete or have any type of social media presence but now I am an IFBB Pro with a community of beautiful souls across my social media platforms & I couldn't be more thankful for where I am at today.
Testimonials
This is SO great. Your guides have been so, SO helpful and I'm super excited to try this one. Thank you for all the hard work you put into this to help us all hit our fitness goals. xoxo.

Laura Davis
Paige, OMG!! You've done it again!! Your leg guide is killer! I just finished day 1 and I am dead, my legs are jello 💀💀 This is the best leg workout I've had in a while. I'm so excited to be following this guide for the next 8 weeks! 😍😍 thank you for always coming out with amazing content!

Maddie Mason
I did my first NPC show in June and my second this past weekend. In between I did 2 rounds of Paige's shoulder guide and 1 round of the back guide. So freakin proud of these upper body gains!! I went from 3rd in my novice class to Overall Figure winner! 🥇🏆 Paige I cannot thank you enough for such amazing workouts.

Keshan Velasquez
This section doesn't currently include any content. Add content to this section using the sidebar.